Rose Petal Tellin


Zigzag Scallop


Turkey Wing


Florida Cone


Sunrise Tellin


Lettered Olive


Pecten Ravenelli


Lightning Whelk



Calico Scallop


Fighting Conk


Lion's Paw

North Captiva Shelling
These are examples of shells that you'll find on the beach at any given time. For the most part, there are an abundance of them but there are a few things you need to know.
First, shelling is best in the Winter and early Spring after windy weather, when the shells are more likely get washed ashore.
Second, the best shelling is done at low tide when you can wade deeper into the water.
Third, at low tide sandbars are exposed where you'll find the larger shells -- guaranteed!
Hot Tip!!!
You may be wondering about sand dollars, there's none on the beach. Well there's an abundance of them too, but there's a trick to finding them. You heard this from me! You need a diving ma sk or swimming goggles and what you do is wade into the water chest deep. Be careful of stingrays (shuffle lightly, don't step). Now dive to the bottom and get as close to the bottom with your mask as possible. Look for tiny wholes in the seafloor, in groups of three, and start digging. You're guaranteed to find sand dollars and lots of them.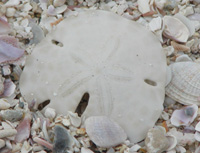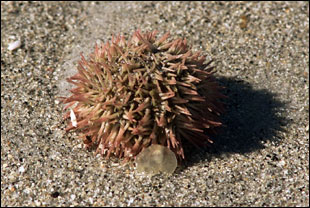 In additition to shells and sand dollars, you'll also find an abundance of sea urchins and driftwood and the occasional man'o'war. Take what you please but remember that it is illegal to take living shells. Please don't be greedy and take everything that you see, just take what appeals to your eye. Don't forget, start early! And, if you're feeling adventurous, try a day on Cayo Costa.
Beachcomber's Checklist
Bring sunglasses and waterproof sunscreen.
Having a tide chart is important... click here Tide Chart
Wear shoes, broken shells are very sharp and jagged.
Bring a bucket to save your shells.
You'll also need a net with a long handle for deeper water.
A sifter would also come in very handy.
For more information about the variety of shells to be found on North Captiva and the Southwest Florida Gulf Coast Barrier Islands, visit The Bailey-Matthews Shell Museum Online.